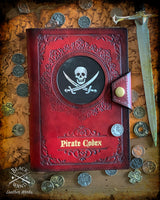 Vacation Time!
Please be advised that I will be on vacation from 8/3 - 8/23. You can still place orders while I'm out of my shop but please expect a delay on any orders placed after 8/1. I'll be back in the workshop on 8/24 to start working on all orders placed while I'm away.
From traditional well crafted hand-made leather wallets, notebooks and journal covers to Tabletop Gaming and Fantasy/SciFi inspired leather goods and accessories, there's something for everyone at Black Wand Leather.
All items hand-made to order.
Image slide

Tell your brand's story through images
Image slide
Tell your brand's story through images